Nearly 190,000 Products from hundreds of Manufacturers!!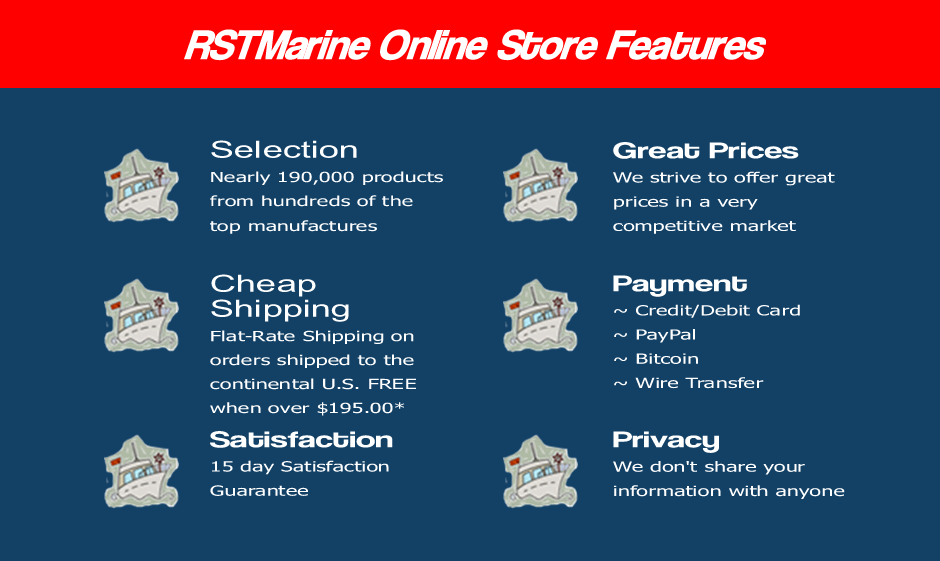 Welcome to RSTMarine. Our mission in business since 2005 has been to provide you with the finest high-tech solutions for boaters worldwide. We have a very extensive array of products from the leading manufacturers in the industry.
To shop, select from the Manufacturers or Categories lists to the left, or use the Product Keyword Search above. You are likely to find the Keyword Search the most useful if you can describe the item a little -- perhaps the manufacturer name and model number you are looking for, i.e. raymarine c70 (spaces and dashes sensitive). Want something you do not see? Send us an email and we will see about getting it for you. We ship worldwide and accept all major credit cards, PayPal and Wire Transfers.
Enjoy the information and products here at our
RSTMarine Online Store
!!
a division of RST Unlimited, Inc.
From the Categories and Manufacturers choices above, browse through the solutions we have to help make your time and travel on the water safe and fun.
We proudly sell products from the following list of manufacturers:
ACR, Adler Barbour, Airmar, Aquatic AV, Astron, Axionix MediaMax, B & G, Bennett Trim Tabs, Bennett Video, Big Bay Technologies, Blue Sea Systems, Boat Leveler, Boatsafe Heaters, Boss Audio, Bounty Hunter, Bushnell Binoculars, C-Map, Charles Marine, Cobra Electronics, D Lilly, Dantronics, Davis Instruments, Delkin Devices, Digital Antenna, Eagle Electronics, Floscan Instruments, Fortress Anchors, Freestyle Audio, Furuno, Garmin, Garrett Metal Detectors, Globalstar Satellite Phones, Gopro Cameras, Guest, Marinco, HeartSine, Hobbs Manufacturing, Howard Miller, Hubbell, Humminbird, Ice Eaters, Icom, Igolf, Infinity Sound Systems, Interphase Technologies, ITN, ITT, Jabsco, JBL Audio, JRC, Katadyn, Kenwood, Krill Systems, KVH, Kwik Tek, Dry Pak, Lenco Marine, Lewmar, Lobstermount, Lowrance, Magellan, Makita, MapTech, Maxwell Windlasses, Minn Kota, Mosquito Magnet, Motionlingo, Motorola, Mustang Survival, Nanov Display Company, Nautamatic, Navionics, Navman, Navpod, Newmar, Nextar, Nikon, Nobeltec, Norcross, Northstar, Ocean LED, Paneltronics, Pelican Products, Plastimo, Poly-Planar, Powerwinch, Pro-Mounts, Propower, Pyramid De-Icers, Quick Windlasses, Raritan, Raymarine, Revere Supply, McMurdo, Ritchie Compass, Rose Point Navigation, Rule Industries, Scanstrut, Sea, Sea-King, King Controls, Seacas AIS, Seakey Security, Sealife, Seatel, Seaview, Shakespeare, Silva Tech4o, Simrad, Simpson Lawrence, Sitex Marine, Speco, Speedtech Instruments, Standard Horizon, Statpower, Steiner Binoculars, Switlik, Tacktick, Tasco, Uniden, VEI Systems, Vocomm, Winslow Life Rafts, Xantrex, Xintex, Fireboy, XM Sattelite Weather, Sirius Satellite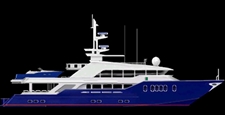 YachtWorldNet - Ruby Yachts Expedition Yacht 125